Capacity surges on Southeast Asia to US trade
on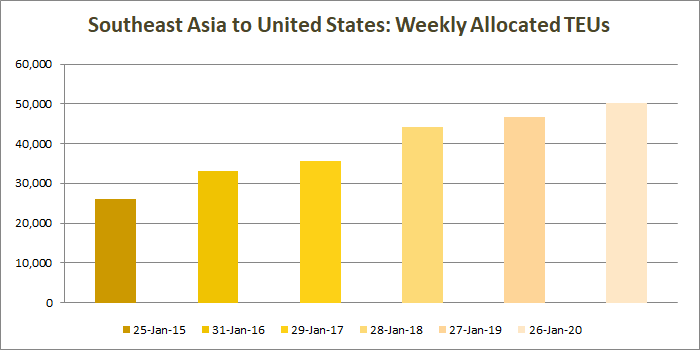 THE Alliance is adding more presence on the Southeast Asia to North America trade, according to a January statement from its members.
THE Alliance will offer a new pendulum service that will deploy 18, 14,000+ TEU ships and will provide added weekly transpacific coverage between Southeast Asia and Southern California, expanding its number of services directly covering this lane to three.
Per the chart above, weekly allocated TEUs on the Southeast Asia to United States trade have been skyrocketing in recent years amid increased U.S. imports from the region, leading carriers to boost their presence on the trade. In January of 2016, there was a year-over-year increase in weekly allocated TEUs of 27.18%, and in January of 2018, there was another yearly increase of 23.39%.
Interested in our data? Contact sales here for more information.