China to run Haifa Port
on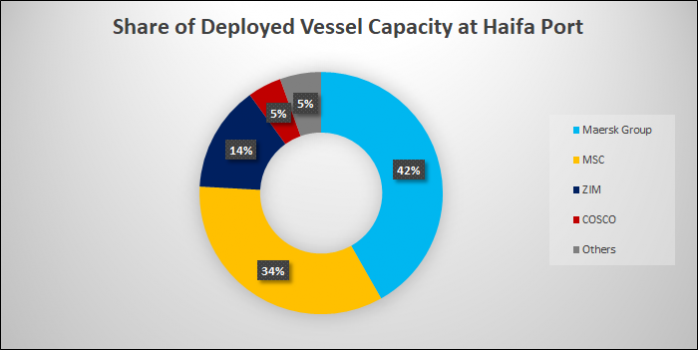 Haifa Port is the largest container port in Israel, thus one of the biggest in the eastern Mediterranean.
The newest and largest of the port's three container terminals is the Carmel Terminal, according to the World Port Source, with the others being the Eastern and Western Terminals.
Shanghai International Port Group (SIPG), a company in which the Chinese government has a majority stake, is slated to manage Haifa Port starting in 2021, The Jerusalem Post said earlier this year. Israel inked a deal with SIPG in 2015 to upgrade and manage its port.
This agreement has raised some concerns from the U.S. and even Israeli officials, given the two countries' strong economic and military partnerships. Officials worry about cyber-security and intelligence threats with the implementation of advanced Chinese technology. The U.S. will now need to decide whether to continue to dock its Sixth Fleet there or follow through on its threat to pull out, The Jerusalem Post reported last week.
Looking at the deployed vessel capacity through Haifa Port using BlueWater Reporting's Terminal Analysis application, Maersk Line, including its subsidiary company Sealand (165,605 TEUs), and MSC (135,204 TEUs) have the largest share at 42% and 34%, respectfully. The 2M Alliance partners are followed by Israeli-based ZIM with 56,060 TEUs in deployed vessel capacity, or 14% of the total share. Chinese-owned COSCO comprises only 5% of the deployed vessel capacity through the port with 17,873 TEUs, which is considerably low given the port's deal with China, although perhaps it will rise upon completion of the takeover in 2021.
Interested in our data? Contact sales here for more information.