Diving deep into HMM's top trades
on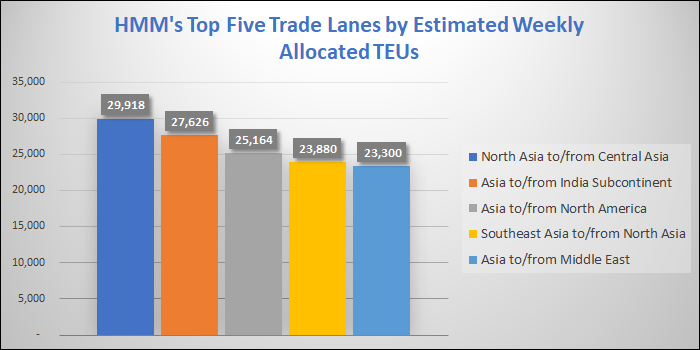 Hyundai Merchant Marine's (HMM) estimated weekly allocated capacity towards its top five trade lanes seems relatively even, according to BlueWater Reporting's Carrier Trade Route Splits Report.
HMM allocates 155,591 TEUs each week across the 18 services it operates container vessels on.
This chart shows HMM's top five trade lanes alone account for 129,888 TEUs of this weekly allocated capacity, with the two intra-Asian trades in the top five collectively accounting for 53,798 TEUs of weekly allocated capacity and the three remaining trades – Asia to/from the India Subcontinent, Asia to/from the Middle East and Asia to/from North America – collectively accounting for 76,090 TEUs of weekly allocated capacity.
HMM has 12, 23,000-TEU and eight, 15,000-TEU eco-friendly container vessels on order, which will increase the size of its container fleet. Additionally, the carrier is expected to join THE Alliance in the spring of 2020.
Interested in our data? Contact sales here for more information.