MSC strikes partnership with Hamad Port
on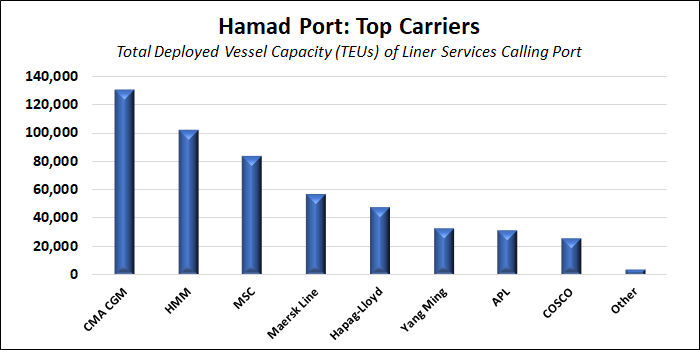 Hamad Port, situated along the Persian Gulf, is the main seaport in Qatar.
The Middle Eastern port is fairly new, having commenced operations in December 2016, but despite being new, it has a lot of potential. Mwani Qatar, which is responsible for managing the nation's seaports and shipping terminals, said in September that the port had entered the Guinness World Records for having the deepest artificial basin ever made on Earth. The port's basin is 4 kilometers long, 700 meters wide and 17 meters deep.
Mediterranean Shipping Co. (MSC) this week inked a deal with Mwani Qatar to use Hamad Port as a regional hub to manage transshipments, Qatar's Ministry of Transport and Communications said in a press release. The deal will start in January 2020 with up to 150,000 TEUs annually passing through the port, growing to a million TEUs by 2023.
Currently, as seen by using BlueWater Reporting's Terminal Analysis application, the chart above shows how CMA CGM is the largest carrier by deployed vessel TEUs through Hamad Port, followed by Hyundai Merchant Marine (HMM). CMA CGM operates a total of 14 container vessels with an aggregate capacity of 130,477 TEUs that are assigned to liner services calling Hamad Port.
MSC is currently third in capacity, followed by Maersk. With the partnership beginning in January, 2020 it should be expected to see MSC's capacity rise, and possibly Maersk also if any of their partnered 2M Alliance services divert their capacity to the Qatari port.
Interested in our data? Contact sales here for more information.