Northern Italian port gains new container terminal
on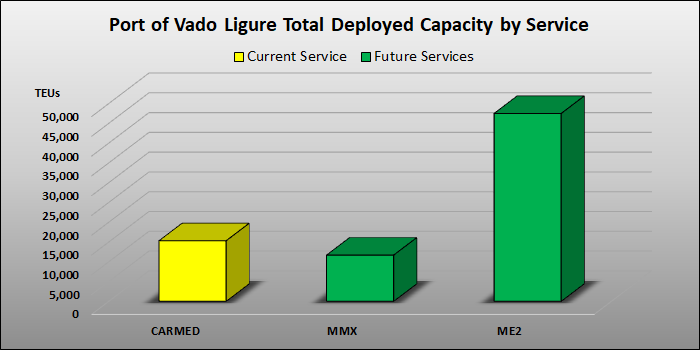 APM Terminals (APMT) has officially opened its new container terminal in Vado Ligure after investing over $200 million in the project.
The new container terminal, dubbed Vado Gateway, complements APMT's existing reefer terminal in Vado Ligure.
Vado Gateway is the first semi-automated terminal in Italy and can handle 900,000 TEUs of annual container capacity, according to APMT officials.
Using the Bluewater Reporting Port Dashboard application, we can see that only one liner service currently calls Vado Ligure. This service is called the CARMED and is operated by Maersk with 15,298 TEUs of total deployed capacity.
Maersk plans on calling the new Vado Gateway terminal in the future with it's MMX and ME2 services, which deploy 11,666 TEUs and 47,468 TEUs, respectively, of total capacity. APMT said vessels on these services will begin calling the new terminal in February 2020.
The addition of these two services will substantially boost capacity through Vago Ligure as it looks to become one of the most competitive ports in Italy.
Interested in our data? Contact sales here for more information.