Port of New Orleans to benefit from Mississippi River dredging
on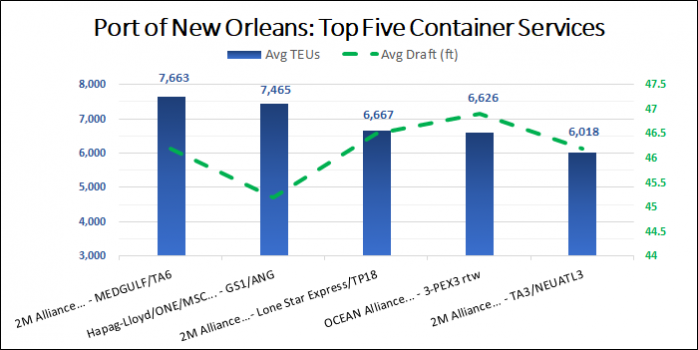 The U.S. Army Corps of Engineers FY 2020 Work Plan includes $85.35 million towards deepening the lower Mississippi River from Baton Rouge to the river's mouth to 50 feet, which will greatly benefit the Port of New Orleans and entice larger vessels passing through the Panama Canal.
The chart above was constructed from BlueWater Reporting's Port Dashboard tool and shows the top five weekly container services (based on average vessel TEU capacity) calling the port, and the average draft of the vessels on those services.
Of these five services, the 2M Alliance's MEDGULF/TA6 and Hapag-Lloyd's GS1/Ang have the largest average vessel size, yet interestingly, they don't have the largest average draft.
Interested in our data? Contact sales here for more information.