Port of Valencia to further pass nearby peers
on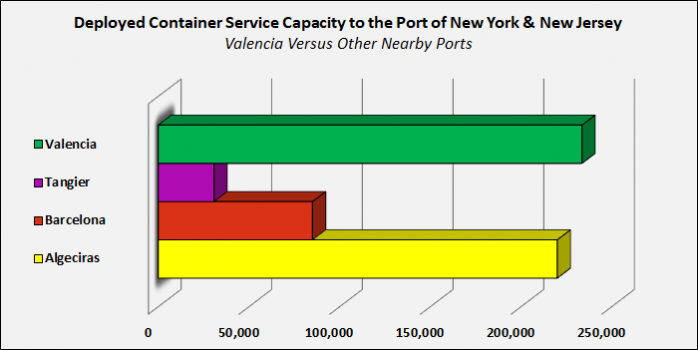 Mediterranean Shipping Co.'s (MSC) terminal operating arm, Terminal Investment Ltd., is planning to invest more than 1 billion euros into a new container terminal at the Port of Valencia.
The new terminal will make the Port of Valencia more competitive by increasing its annual container handling capacity. Additionally, the terminal is expected to be the most modern in the world, and 98% of its machinery will be electric, according to the Port Authority of Valencia.
The Port of Valencia already has a throughput advantage over its local peers, which can be seen using the BlueWater Reporting Region to Region Transit Analysis by Service tool.
Using the Port of New York & New Jersey as an example, being that it's the busiest U.S. East Coast port, the chart above shows that container services offered from the Port of Valencia to the Port of NY/NJ have an aggregate handling capacity of 233,646 TEUs. In comparison, container services offered from the Port of Algeciras to the Port of NY/NJ collectively deploy 220,059 TEUs of capacity, followed by the Port of Barcelona at 85,193 TEUs and the Port of Tangier at 30,774 TEUs.
Interested in our data? Contact sales here for more information.