THE Alliance spurs growth at Port of Hamburg
on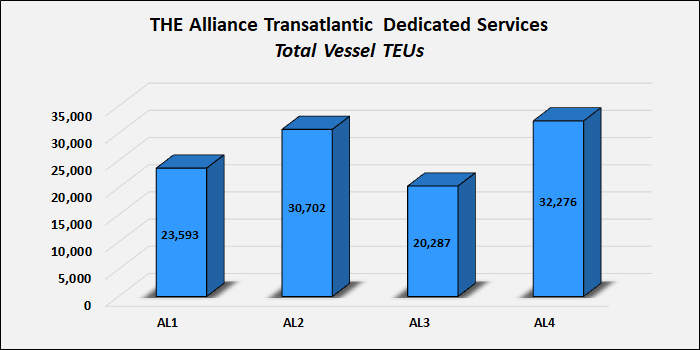 The Port of Hamburg was able to achieve vast growth through the first three quarters of 2019, despite the trade war negatively impacting Germany's export market and slowing global economic growth.
Container handling for the first 9 months of 2019 was up 6.9% year-over-year to 7 million TEUs, the port said.
This explosive growth was largely due to THE Alliance adding Hamburg as a port of call on four transatlantic services. On Jan. 2, 2019, news was made on BlueWater Reporting's ServiceTracker that THE Alliance's transatlantic AL1, AL2, AL3 and AL4 services had added a Hamburg call to their rotations.
Using the BlueWater Reporting Port Dashboard tool, we can see all the services calling Hamburg, including these four THE Alliance services. Although THE Alliance has 10 services that call the port, these four are the only ones that strictly operate on the transatlantic trade between North Europe and North America. Of these four services, the AL3 currently has the least total vessel capacity with only 20,287 TEUs, while the AL4 has the most at 32,276 TEUs, as shown by the chart above. These four services operate on a fixed-day weekly rotation and account for over 100,000 TEUs of total vessel capacity.
Interested in our data? Contact sales here for more information.