Vessel size nearly doubled on Asia-North Europe trade over last decade
on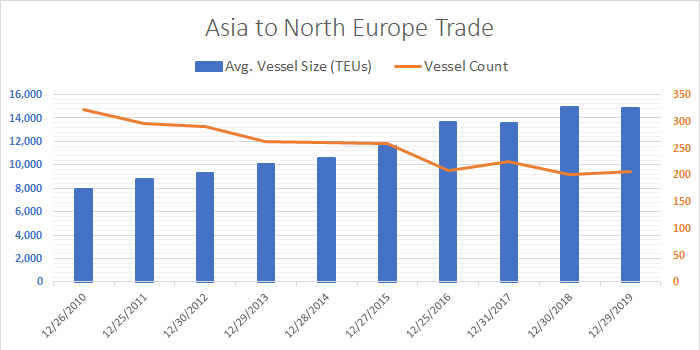 This past decade, the 2010s saw a vast increase in the size of vessels, especially along the Asia-North Europe trade lane.
This coincides with a decrease in the amount of ships on the trade lane as well, with the major carriers consolidating their capacity on new megaships built later during the decade.
For instance, Mediterranean Shipping Company (MSC) has deployed nine new megaships, including the MSC Gulsun, averaging around 23,756 TEUs on its Asia-Europe "Silk" service, which is jointly operated with its 2M Alliance partner Maersk Line. The OCEAN Alliance carriers have also done similar on their French-Asia Line 5 service by deploying six megaships, including the OOCL Hong Kong, which average around 21,413 TEUs.
The chart above, built using BlueWater Reporting's Capacity Report, shows the average vessel size on the Asia to North Europe trade almost doubled in size between December 2010 and December 2019. The average vessel size increased from 7,971 TEUs to 14,844 TEUs, an 86.2% increase. There was a slight decrease during 2019, which was possibly due to some carriers' recent redirection of their megaships towards the Asia to Middle East trade lane during the year.
The chart also clearly shows the decrease in the total number of vessels along the trade lane, a 36% decrease from 322 vessels to 206 across the decade. This is another indication of the consolidation of capacity into the new megaships built during the last decade.
Interested in our data? Contact sales here for more information.