Asia-Europe trade a hotbed for new truck, rail cargo services
Shippers are benefiting from new rail and truck cargo transport options frequently launching on the key trade lane.
on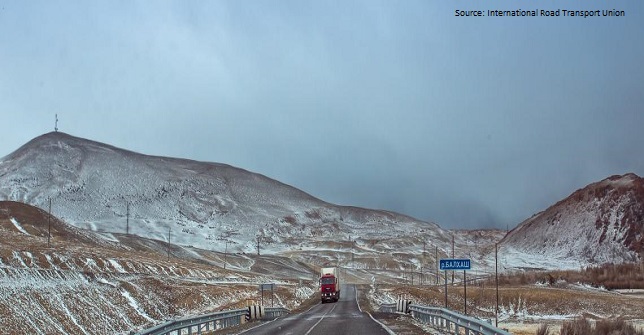 Overland transport between Asia and Europe has continued to pick up speed in recent months due to countries along the Silk Road further breaking down trade barriers, as well as the additional truck and rail services that continue to launch.
Cargo transport by rail and truck on the trade is not necessarily a threat to air or ocean transport, being that each mode provides shippers with different benefits. However, overland transport can provide a middle ground for shippers in terms of cost and transit times, coming in cheaper and slower than air transport, but more expensive and faster than ocean transport.
Additionally, overland transport allows shippers to detour around challenges in the ocean liner industry, such as how the International Maritime Organization's (IMO) impending sulfur cap will impact both shippers and carriers. When the sulfur cap kicks into gear on Jan. 1, 2020, vessels will have to use fuel with a maximum sulfur content of 0.5%, compared to the current limit of 3.5%. The regulation is expected to result in increased fuel costs for ocean carriers, and it's still not clear just how much success carriers will have in passing these higher costs onto shippers.
The ocean liner industry has also presented shippers with fewer options over the years in terms of the number of carriers and services offered, resulting in fewer but larger vessels making less port calls and offloading more cargo at once.

The charts above, built using data from BlueWater Reporting's Carrier/Trade Route Deployment Report and Capacity Report show how the number of ocean liner services and carriers providing container vessels from Asia to North Europe and from North Europe to Asia has significantly declined between July 2019 and five years prior. Container vessel counts on both routes have fallen over this time period, while average vessel size has increased, but over the past year, this trend has reversed.
Breaking down barriers. China, the world's largest trading nation, ratified the United Nation's Transports Internationaux Routiers (TIR) Convention in July 2016, and in May 2018, China officially opened its borders to TIR operations.
TIR, which has over 70 contracting countries around the globe, allows goods to be shipped from a country of origin, through transit countries, to a country of destination in sealed load compartments that are controlled via a multi-lateral, mutually recognized system, according to the International Road Transport Union (IRU). The IRU has a map that shows TIR acceptance around the globe, which can be found here.
The first TIR truck transport from China to Europe occurred in November 2018. The truck made a 7,000-kilometer journey from Khorgos, China, through Kazakhstan, Russia and Belarus, to its final destination in Poland in just 13 days, without any disruption or customs issues, according to the IRU.
The journey was a joint effort between the IRU, CEVA Logistics, Shanghai Jet-rail International Transportation, and Alblas International Logistics as the operator.
Meanwhile, the first successful TIR truck transport from Europe to China was completed in February of this year, with Alblas as the operator. The truck made a 7,400-kilometer journey from Germany, through Poland, Belarus, Russia and Kazakhstan, to Khorgos in just 12 days without any disruption or customs issues, according to the IRU.
Khorgos is in western China on the border of Kazakhstan. China and Kazakhstan opened the new border crossing at Khorgos in September 2018, with the crossing known as Khorgos on the China side and Nur Zholy on the Kazakhstan side. On June 25, 2019, China opened all of its checkpoints to international road transport under TIR.
Additionally, China has signed bilateral international road transport agreements with Georgia and Belarus, which will allow trucks to pass more easily between the countries and ultimately boost trade cooperation. The agreements were forged separately in late April during the second Belt and Road Forum for International Cooperation, which was held in Beijing.
"The agreements now signed will be mutually beneficial, not only allowing Belarusian and Georgian transport operators to enter China but Chinese transport operators to enter Belarus and Georgia, as well as transit through their territories," the IRU explained.
Exceeding expectations. International freight forwarding company Davies Turner & Co Ltd offers less-than-container-load (LCL) and full-container-load (FCL) overland services from Wuhan, China to Dartford, United Kingdom, near London.
The service involves rail transit from Wuhan to Duisburg, Germany. The container is then trucked from Duisburg to Rotterdam, Netherlands, where it is then put on a ferry destined for Purfleet, United Kingdom. If the cargo is LCL, the container is then trucked from Purfleet to Davies Turner's warehouse in Dartford, which is only a 15-minute drive.
"Having reviewed the statistics for our Express China Rail import service for the first five months of 2019, the scheduled transit time from the Wuhan rail hub to our Dartford depot has been beaten on 16 out of 22 weeks," Tony Cole, Head of Supply Chain Services at Davies Turner said in a June press release. "Whilst the scheduled transit time from the Wuhan rail hub to our Dartford depot is 22 to 24 days, we are regularly seeing transits of 19 or 20 days, and in May achieved a record transit of 18 days."
In early August, Cole told BlueWater Reporting that year-to-date, it has been taking 21.4 days on average from the Wuhan departure to having the goods unpacked at its warehouse in Dartford.
In terms of rates, Davies Turner's LCL offering from Wuhan to Dartford is sold at a rate of $120 per cubic meter, or 500 kilograms (whichever is the greater). This rate excludes a UK destination, terminal handling, customs clearance and door delivery charges. Cole said these rate levels are very similar to destination charges for ocean shipments. In comparison, LCL freight shipped by sea from mainland China ports to UK ports usually costs about $40 per cubic meter, or 1,000 kilograms (whichever is the greater), he said. Davies Turner estimates that airfreight transport from China to the UK averages roughly $1,000 per cubic meter, or 500 kilograms (whichever is the greater), but the company added how this estimate could vary significantly depending on the time of year and specific origin and destination airports.
These rates, which were provided by Davies Turner, as well as estimated transit times, can be seen in the chart below. Transit times for ocean liner services were gathered from BlueWater Reporting's database. Airfreight transit times were gathered from Freightos' transit time calculator, using Shanghai Pudong International Airport as the origin point and London Heathrow Airport as the destination point.

Data from BlueWater Reporting's Country to Country Transit Analysis by Service tool shows that of the 38 point-to-point origin and destination options from Mainland China to the United Kingdom offered by ocean liners, average transit time clocks in at 33.2 days port/port, plus an additional 3-4 days for discharge from the vessel and unpacking for LCL, therefore averaging 36.7 days. This data does not include ocean liner services that involve transshipment. Freightos' transit time calculator shows air cargo transits from Shanghai to London take about 5-8 days.

Creating more options. Various overland cargo services have launched since BlueWater Reporting released its report in February titled, "Overland gains traction on Asia-Europe trade."

Some of these services are mentioned below:

-In March, a TIR truck carrying a 70-cubic-meter load of nearly 7,000 kilograms of garments departed China for a retailer in Spain. The truck set off from Foshan City, China, began its TIR transport at the Khorgos border crossing point, and travelled through Kazakhstan, Russia, Belarus, Poland, Germany and France before reaching its final destination in Alicante, Spain 16 days later on March 29, the IRU said in April. The voyage was conducted by operator Alblas and freight forwarder CEVA Logistics. After the shipment was customs sealed in Khorgos, no inspection was required during the transit, which was over 13,600 kilometers, CEVA said. "This was the last official trial for our new China-Europe trucking service before we begin a regular service this month," Torben Bengtsson, executive vice president of CEVA Logistics North Asia said. CEVA said the China-Europe trucking service would be operated as a round trip twice a week, with the exact departure and destination being handled flexible according to customer's needs.

-In April, CEVA Logistics North Asia launched a block train service from Xiamen, China on Wednesdays to Duisburg, Germany, in cooperation with Xiamen International Railway Service (XMIRS). "Depending on the origin cities in Asia, it will take 16-17 days at a minimum to reach the destination in Europe via Xiamen. More block trains will be operated as demand grows," XMIRS General Manager David Wu said.

-In April, the IRU announced that the first ever TIR transport from inland China to Russia, conducted by Moscow-based transport operator D-Trans, arrived at the customs of destination. The 9,300-kilometer TIR journey from Tianjin to Tver, Russia took 12 days.

-In May, DB Cargo announced that its component, DB Cargo Logistics, extended its contract with BMW to transport the automobile company's components by rail from Germany to China for vehicle production, which it has been doing since 2011. Two to three trains normally run from Regensburg and Leipzig to Shenyang, China on a weekly basis. The parts supply two automotive plants in Shenyang that primarily produce SUVs. DB Cargo Logistics' train system is also open to third parties and offers a "high level" of flexibility, DB Cargo said. "BMW AG gives us weekly reports on its transport volumes, which makes it possible for us to market spare capacity on the train, for instance, to other automotive manufacturers," Ina Schollen, senior account manager at DB Cargo Logistics said. "That way, we can make sure that there is always sufficient capacity available for BMW to transport its cargo to China."

-In June, the IRU announced that D-Trans had completed a 13,000-kilometer TIR truck journey from China using a new route through Asia. The truck went from Shanghai to Istanbul, Turkey in 19 days and encountered no border crossing issues along the way, the IRU said, adding how the truck had passed through Russia, Belarus, the Ukraine, Romania and Bulgaria along the way. Previous China-EU TIR journeys crossed the western Chinese border point at Khorgos into Kazakhstan before completing their onward journeys, while this transport passed from China directly into Russia at Manzhouli in the northeastern part of the country, before travelling on to Europe.

-In July, the People's Government of Hunan Province announced that the "Hunan-Europe Express Line," an international logistics channel connecting Hunan, China to Central Asia and Europe, would be expanding its operations this year. It has already been offering 10 direct routes from Changsha to Duisburg, Tashkent, Moscow, Hamburg, Warsaw, Minsk, Budapest, Tehran, and Tilburg; and from Huaihua to Minsk. Three main routes from Zhuzhou to Minsk, Tilburg and Moscow are launching this year. Three main routes from Zhuzhou to Minsk, Tilburg and Moscow are launching this year. "This will promote Zhuzhou's export of rail transit, hard alloys, ceramics, clothing, and other products, facilitate foreign trade and cross-border e-commerce development, and accelerate the establishment of 'One Belt and One Region' opening up and development of pilot zone," the release said.

Conclusion: BlueWater Reporting does not expect rail or truck transport on the Asia-Europe trade to become a significant threat to ocean transport, mainly because the larger amount of cargo a ship can carry compared to trains or trucks will never change. Air transport is likely to face more of a threat, albeit modest, from increased overland transport options on the trade since overland transport is substantially cheaper than air transport. However, overland transport is not expected to snag business of high value goods, which will continue to be shipped via air.




======= >>>>>>> 65101948d3f97f6e650027a0ef51327bea4d11d0