Brazil's potential shift to capitalism
BlueWater Reporting looks at possible economic boosts that also could benefit the United States.
on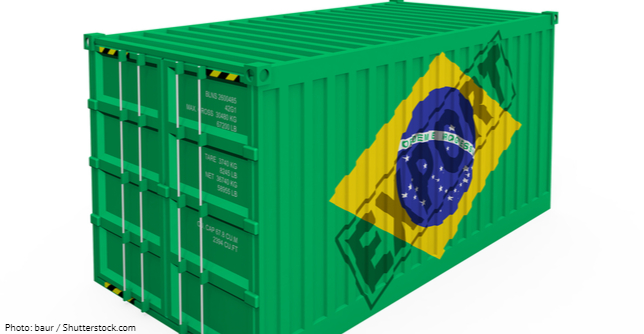 The new year has coincided with a new president for Brazil as Jair Bolsonaro has replaced the nation's former leader, Michel Temer.
In his inaugural address, Bolsonaro vowed to shift the Brazilian economy from socialism to capitalism. "I call on all congressmen to help me rescue Brazil from corruption, criminality and ideological submission," he said. "Our flag will never be red. Our flag will only be red if blood is needed to keep it green and yellow."
The potential shift from socialism to capitalism could have major economic benefits for not only Brazil but for its trading partners as well. According to the World Bank, in 2016 the United States was the top importer to the Brazilian market and was the recipient of the second largest amount of exports from the Brazilian market.
President Donald Trump tweeted, "Congratulations to President Bolsonaro, who just made a great inauguration speech - the U.S.A. is with you!"
Bolsonaro responded with a tweet of his own. "Dear Mr. President, I truly appreciate your words of encouragement. Together, under God's protection, we shall bring prosperity and progress to our people!"
The Brazilian economy has several advantages Bolsonaro will be able to exploit to meet his goal of a free market capitalist economy. According to the CIA World Fact Book, the Brazilian economy is the eighth largest in the world when measuring by real gross domestic product. Brazil has 208 million residents, making it the fifth most populated country in the world. More than 86 percent of its residents live in an urban area.
One of the most difficult transitions for a developing economy is converting rural populations to urban centers where jobs are most plentiful. For example, according to the World Bank, the Chinese economy spends hundreds of billions of dollars a year as it continues to transition its rural population into urban areas. As most of the Brazilian population is already urbanized, new jobs will be met with adequate labor.
Brazil is also the sixth largest country in the world by area and has plentiful natural resources, including bauxite, gold, iron ore, manganese, nickel, phosphates, platinum, tin, rare earth elements, uranium, petroleum, hydropower and timber. These natural resources have an estimated value of more than $21 trillion.
To exploit these economic advantages, Bolsonaro has plans to cut taxes and push forward with deregulation, which will create a foundation for economic growth. Infrastructure investment also will be a priority to help maintain long-term economic stability. If President Bolsonaro is successful in transitioning Brazil into a free market country, the United States should see the largest benefits, being that it's Brazil's main trade partner.
Bluewater Reporting uses tools such as the Country to Country Transit Analysis by Service application to analyze liner services between the United States and Brazil. Using this application, the charts below illustrate the 11 liner services offered from the United States to Brazil: five that deploy fully cellular container vessels, two that deploy multipurpose vessels and four that deploy either roll-on/roll-off vessels or pure car/truck carriers.
The first chart illustrates the five container services, as well as their total deployed capacity, number of vessels they deploy and their average vessel size, while the bottom chart shows the other six services.




The five container services collectively deploy a total of 219,231 TEUs. Of these five loops, CMA CGM's Brazil Express has the smallest average vessel size at 3,380 TEUs, while the GS1/ANG, which is jointly operated by Hapag-Lloyd, the Ocean Network Express and Mediterranean Shipping Co., has the largest average vessel size at 6,544 TEUs.
If President Bolsonaro is successful in his efforts to boost economic growth, exports to Brazil from the United States should rise as domestic consumers earn more disposable income. Similarly, exports to the United States from Brazil should rise as deregulation allows for harvesting of natural resources. These potential changes will be seen in both the total capacity and average capacity for fully cellular vessel services on this trade lane.

© 2019 BlueWater Reporting (www.BlueWaterReporting.com) Used with permission




======= >>>>>>> 65101948d3f97f6e650027a0ef51327bea4d11d0