Brazil's trade footprint holds strong, but volatility persists
BlueWater reporting digs deep into data showing economic headwinds and tailwinds South America's largest economy is facing.
on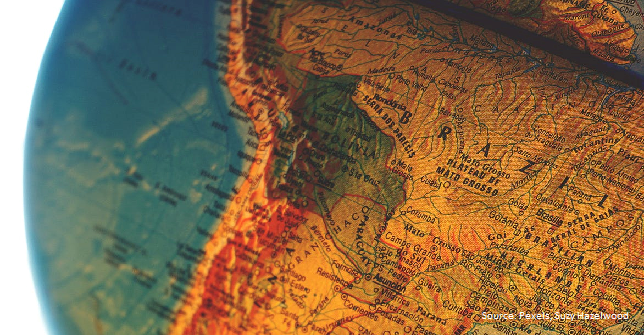 Brazil, South America's largest economy, has managed to successfully climb its way out a recession that bogged down the nation in 2015-2016, and although solid growth is expected to persist through 2020, certain headwinds are causing uncertainty and could potentially spark another recession.
Brazil is still experiencing steady growth, considering the nation saw a double-digit year-over-year increase in goods imports and exports in 2018. Additionally, container volumes across the nation's seaports for the first half of this year have collectively experienced modest growth compared to the corresponding 2018 period. On top of that, the general consensus across various organizations is that Brazil's GDP growth in 2020 is expected to be higher than this year's GDP growth.
Brazil also appears to be benefitting from the U.S.-China trade war, considering its goods imports and exports with the U.S. this year are on the rise.
However, Brazil is battling with a high unemployment rate, while economic turbulence in China and Argentina, both of which are prominent trading partners for Brazil, could cause headwinds.
China is Brazil's top goods import and export partner, the U.S. is Brazil's second top goods import and export partner, and Argentina is Brazil's third largest import and export partner, according to the World Integrated Trade Solution (WITS), a trade software provided by the World Bank.
Tailwinds for Brazil. Brazil's merchandise exports in 2018 totaled $239.9 billion, up 10.2% year-over-year, while the nation's merchandise imports in 2018 stood at $181.2 billion, up 20.2% year-over-year, as illustrated in the chart below, which was built using data from UN Comtrade's 2018 International Trade Statistics Yearbook: Volume 1-Trade by Country.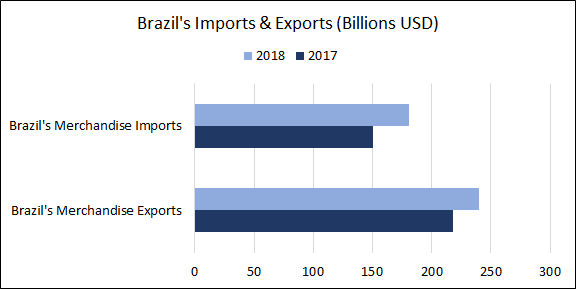 Additionally, Brazil's seaports continue to handle an increased amount of container volumes. For the first half of 2019, Brazil's ports collectively handled 4.9 million TEUs, up 2.1% from the first half of 2018, as illustrated in the chart below, which was built using data from the 36/19 issue of the Dynaliners Weekly newsletter released during the first week of September.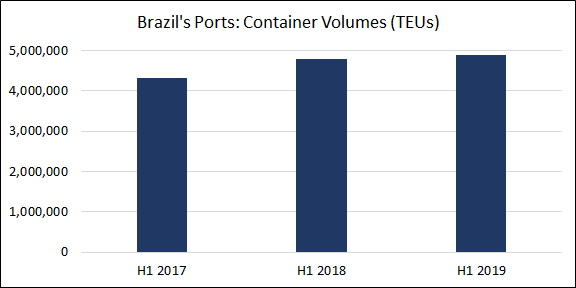 Despite the modest year-over-year growth in H1 2019, significant increases and decreases from port to port were prevalent, according to the Dynaliners Weekly newsletter.
The ports of Itajai, Itapoa, Paranagua, Pecem and Rio de Janeiro have seen consistent and substantial container growth when comparing H1 reporting periods from 2017-2019, while Navegantes and Rio Grande have seen a steady downfall.
Santos, which has a strong lead as Brazil's top container port, handled 37% of the nation's H1 2019 container volumes. However, Santos' container volumes for H1 2019 had slipped 2.5% from H1 2018, although they were still up 7.6% from two years prior during H1 2017, the newsletter said.
Brazil's central bank's quarterly inflation report issued in September said it expects the nation's annual GDP growth to total 0.9% for 2019, a slight improvement from its expectation in June of 0.8% growth for 2019.
For 2020, "still with a high degree of uncertainty," GDP growth is expected to total 1.8%, the report said.
The International Monetary Fund's World Economic Outlook released in July also projected Brazil would experience stronger GDP growth in 2020 than in 2019, with a projected GDP growth of 0.8% for 2019 and 2.4% for 2020.
Brazil also has the potential to boost its exports to the U.S. due to U.S. imports from China being on the decline from the U.S.-China trade war. It appears this trend already is happening, considering for the first 7 months of 2019, U.S. goods imports and exports with Brazil have both increased year-over-year, as illustrated in the chart below, which was built using U.S. Census Bureau data.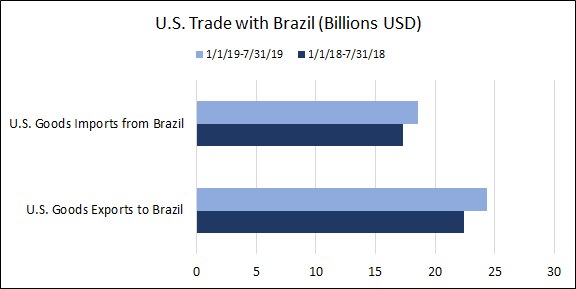 Headwinds for Brazil. A slowing Chinese economy and Argentina's deepening financial crisis could put a wrench in Brazil's economy, as well as Brazil's high unemployment rate.
"The Brazilian economy has indeed been boosted by stronger output in the construction and manufacturing sectors, but so far, the government of President Jair Bolsonaro has not succeeded in tackling the high unemployment rate (12%), while a slowing Chinese economy impacts directly on Brazil as a provider of various raw materials," London-based research and consulting firm Drewry said in its Container Insight Weekly newsletter that was released on Sept. 30. "Brazil will also suffer from Argentina's woes as its third third-largest trading partner, exporting mainly industrial goods."
Illustrating how important China and Argentina are on Brazil's economy, WITS data shows that as of 2017, Brazil was getting 6.3% of its imports from Argentina and 8.1% of its exports were going to Argentina in terms of value, while Brazil was getting 18.1% of its imports from China and 21.8% of its exports were going to China in terms of value. Brazil was also getting 16.7% of its imports by value in 2017 from the U.S., while 12.5% of its exports by value were destined for the U.S.
Brazil's liner shipping presence. The chart below, built using data from BlueWater Reporting's Port Dashboard app, shows the top five ports in Brazil that are called by the most ocean liner shipping services. Any services that strictly serve the East Coast South America region are not included in this chart.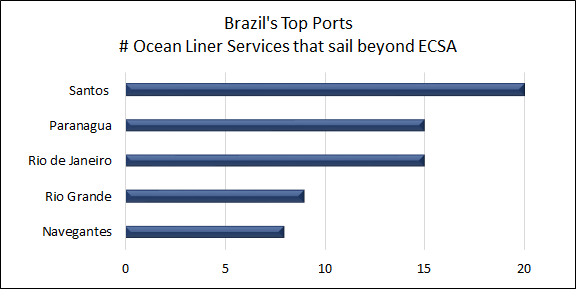 BlueWater's Country-to-Country Transit Analysis by Service app, which allows users to see all container shipping services offered from one country to another, as well as the origin port, destination port, and transit times, shows the fastest liner shipping service offered from China to Brazil provides 27-day transits, while the fastest liner shipping service from Brazil to China provides 32-day transits.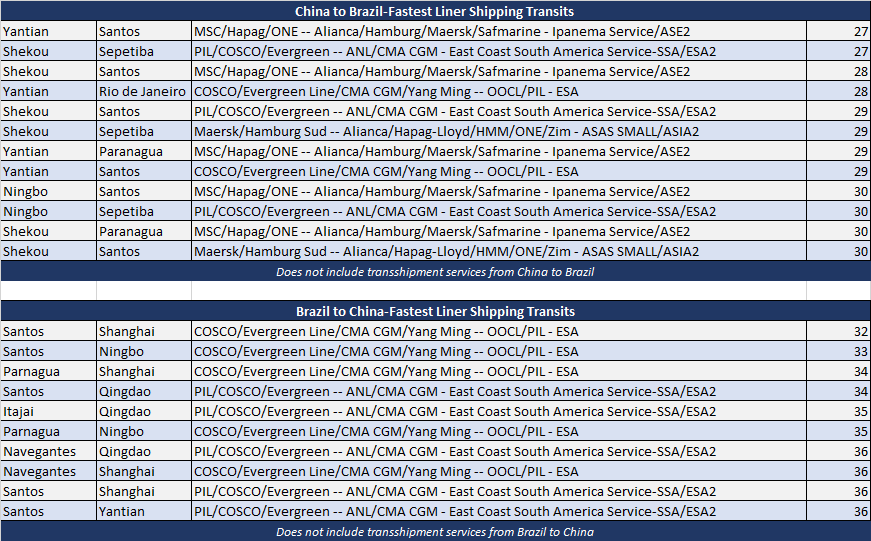 Looking at Brazil's liner shipping ties to the U.S., its second largest trading partner, the fastest liner shipping service from the U.S. to Brazil provides 11-day transits, while the fastest liner shipping service from Brazil to the U.S. offers 8-day transits.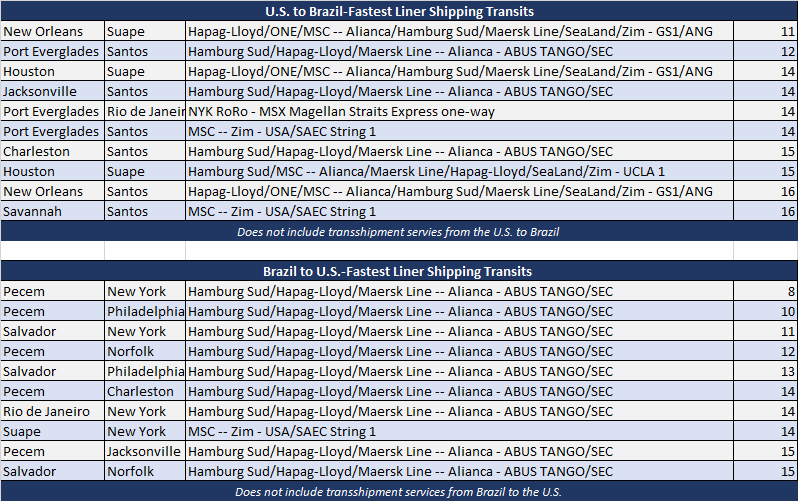 BlueWater Reporting's insight: BlueWater Reporting expects Brazil's economy and trade volumes to hold strong for the remainder of 2019 and most likely 2020, although headwinds could spur an economic downturn in Brazil, potentially starting as early as 2020.