Liner shipping outlook not all doom and gloom
Better balance of supply and demand in 2020, coupled with slightly increased global GDP growth in the next couple years could offset ongoing challenges in the liner shipping industry.
on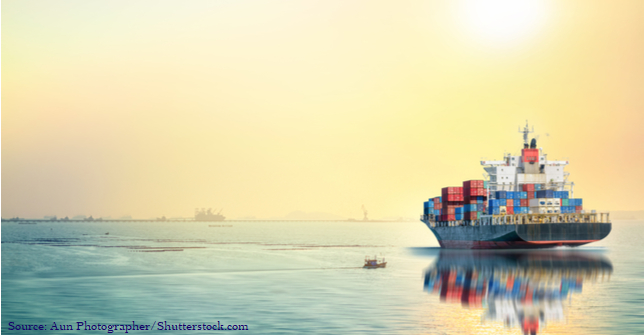 Liner shipping companies have generally been more profitable in 2019 in what has been dubbed a year of uncertainty for the industry, and despite many variables still at play that will impact the 2020 outcome, it's not all doom and gloom.
Container shipping capacity growth is expected to decline slightly between 2019 and 2020 amid a modest increase in demand, which could potentially boost spot rates. Additionally, global GDP growth is expected to increase, albeit at a slow pace, over the next couple of years, despite both the United States and China projected to see a decline in GDP growth.
Ongoing trade tensions between the U.S. and China were the primary concern mentioned by liner carriers in their Q3 2019 financial releases. The International Maritime Organization's 2020 sulfur cap could also put a wrench in carriers' profits, depending on the amount of success they have in recouping higher fuel costs from shippers. Carriers rolled out their low sulfur fuel oil surcharges Dec. 1, which helped boost spot rates, although only time will tell in how successful they will be in getting these rate increases to stick.
Carrier financials. For the first nine months of 2019, COSCO Shipping Holdings, Evergreen Marine, Hapag-Lloyd, Hyundai Merchant Marine (HMM), Yang Ming Marine Transport, ZIM and Wan Hai all posted improved financial results through either boosting their net profit, turning a profit, or posting less of a net loss compared to the corresponding 2018 period, according to their financial statements.
Although Danish shipping conglomerate A.P. Moller – Maersk recorded a lower net profit year-over-year for the first nine months of 2019, this was largely a result of a $2.6 billion accounting gain in Q1 2018 in relation to the closing of the Maersk Oil transaction in March of that year, when Maersk Oil was officially sold to French energy company Total.
Additionally, A.P. Moller – Maersk's ocean segment posted double-digit EBITDA growth year-over-year for the first nine months of 2019, clocking in at $3.26 billion.

For the quarter ending Sept. 30, A.P. Moller – Maersk, Hapag-Lloyd, Ocean Network Express, HMM, ZIM and Wan Hai recorded year-over-year improvements. Meanwhile, COSCO Shipping Holdings' net profit remained flat, the CMA CGM Group and Evergreen's net profit declined, and Yang Ming fell deeper into the red.
The CMA CGM Group was the only one of these major shipping companies to see deteriorating year-over-year net profit/loss results for both the quarter and for the first nine months of 2019, which was largely a result of its CEVA Logistics acquisition.
CMA CGM said in November that the significant investments made to transform CEVA Logistics are weighing on margins in the short term, adding how it "confirms the profitability targets previously announced for CEVA Logistics, but sets their effects to 2023/2024 due to the challenging environment in certain industrial sectors."
Credit rating agency Fitch Ratings commented in November how "global container shipping is focusing more on vertical integration, moving into logistics and away from consolidation amid slowing growth in container trade as well as digital disruption. The credit implications are not yet clear as shipping companies' ability to generate stable cash flows through vertical integration could be offset by the competitive and fragmented nature of logistics markets."
Signs of profit. Considering 2019 was generally a good year for carriers financially (although full year results still have yet to be released), and the supply/demand balance is expected to be more favorable for carriers in 2020, they could post even stronger profits next year.
Fitch Ratings said in November it projects global container trade volumes will grow 2% in 2019 and 2.5% in 2020, while global container fleet capacity will grow 3.6% in 2019 and 3.3% in 2020.

However, the credit rating agency did point out that even though volumes growth is expected to accelerate in 2020, the 2.5% expected growth for 2020 is still "well below the average growth rate of about 4.5% in the past eight years."
Additionally, A.P. Moller – Maersk said in November that, "In 2020, global container demand is projected to grow by 1-3% versus 1-2% in 2019."
Another positive sign for shipping companies in 2020 is the World Trade Organization (WTO) said in October that it expects world merchandise trade volumes will grow 2.7% in 2020, compared to its projection of 1.2% for 2019. World merchandise trade volumes grew 3% in 2018, according to WTO data.
Meanwhile, annual global GDP growth is expected to increase slightly over the next few years, despite GDP growth declines for the U.S. and China, according to projections from the International Monetary Fund (IMF) and the Organisation for Economic Co-operation and Development (OECD).

The IMF said in its World Economic Outlook released in October that the increased GDP growth in 2020 reflects "a projected improvement in economic performance in a number of emerging markets in Latin America, the Middle East, and emerging and developing Europe that are under macroeconomic strain." However, the IMF did explain that "with uncertainty about prospects for several of these countries, a projected slowdown in China and the United States, and prominent downside risks, a much more subdued pace of global activity could well materialize."
Global headwinds. The U.S.-China trade war appears to be the top concern expressed by liner carriers when discussing their Q3 2019 financial results.
• A.P. Moller – Maersk: "The main risks to global container demand relates to the US-China trade negotiations."
• Yang Ming: "The container shipping market remains vulnerable to trade uncertainties and geopolitical tensions. It is unclear the extent of potential impact those tensions and uncertainties will have on demand. Anticipating ongoing US-China trade disputes and a shift in the global supply chain, Yang Ming will continue to optimize its intra-Asia service network."
• ZIM: "The instability and volatility in the market, including significant uncertainties in the global trade, mainly due to USA related trade restrictions, continue to affect the market environment."
However, there finally appears to be a ray of hope the trade tensions between China and the U.S. are starting to simmer down.
The Office of the U.S Trade Representative announced Dec. 13 the U.S. and China reached a "phase one trade deal."
The USTR said the phase one trade deal "requires structural reforms and other changes to China's economic and trade regime in the areas of intellectual property, technology transfer, agriculture, financial services, and currency and foreign exchange. The phase one agreement also includes a commitment by China that it will make substantial additional purchases of U.S. goods and services in the coming years. Importantly, the agreement establishes a strong dispute resolution system that ensures prompt and effective implementation and enforcement."
As a result of the phase one deal, the U.S. did not go forward with plans to impose a 15% tariff on Dec. 15 on roughly $156 billion worth of Chinese imports. However, the U.S. will be maintaining 25% tariffs on approximately $250 billion worth of Chinese imports, along with 7.5% tariffs on about $120 billion worth of Chinese imports.
Just this Tuesday, President Donald Trump tweeted, "I will be signing our very large and comprehensive Phase One Trade Deal with China on Jan. 15. The ceremony will take place at the White House. High level representatives of China will be present. At a later date, I will be going to Beijing where talks will begin on Phase Two!"
Carriers that focus a higher percent of their capacity towards Asia-North America trades will be more susceptible to how the U.S.-China trade war continues to pan out.
For instance, the chart below, built using data from BlueWater Reporting's Carrier Trade Route Splits Report, shows that of the top liner carriers, ZIM, ONE, Evergreen Line and Yang Ming have the most at risk, with ZIM allocating 14.2% of its capacity each week towards the Asia to North America trade at 14.2%, followed by ONE at 10.8%, Evergreen Line at 10.6% and Yang Ming at 10.1%. Although the Asia to North America trade consists of other countries, China and the U.S. dominate the Asia to North America trade.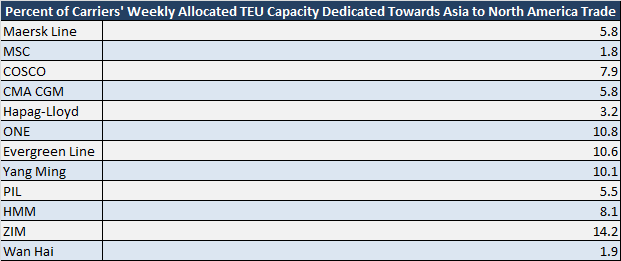 Carriers will be very aggressive in blanking sailings in 2020 on the Asia-North America trades, but considering how carriers struggled with weak spot rates on these trades in 2019 despite aggressively blanking sailings, chances are, these measures alone won't be enough to boost rates.
The chart below shows anticipated blanked sailings from the end of December 2019 through February 2020 on Asia-North America trades. Some of these blanked sailings are a result of Chinese New Year, which will fall on Jan. 25, 2020, although it appears they plan to blank various sailings into February, which is likely due to low demand on the trade in general.
The chart was built using data from carriers' blanked sailings announcements and schedules. The blanked sailings dates are based off the voyage's departure from Asia and the blanked sailings are expected to be both eastbound and westbound.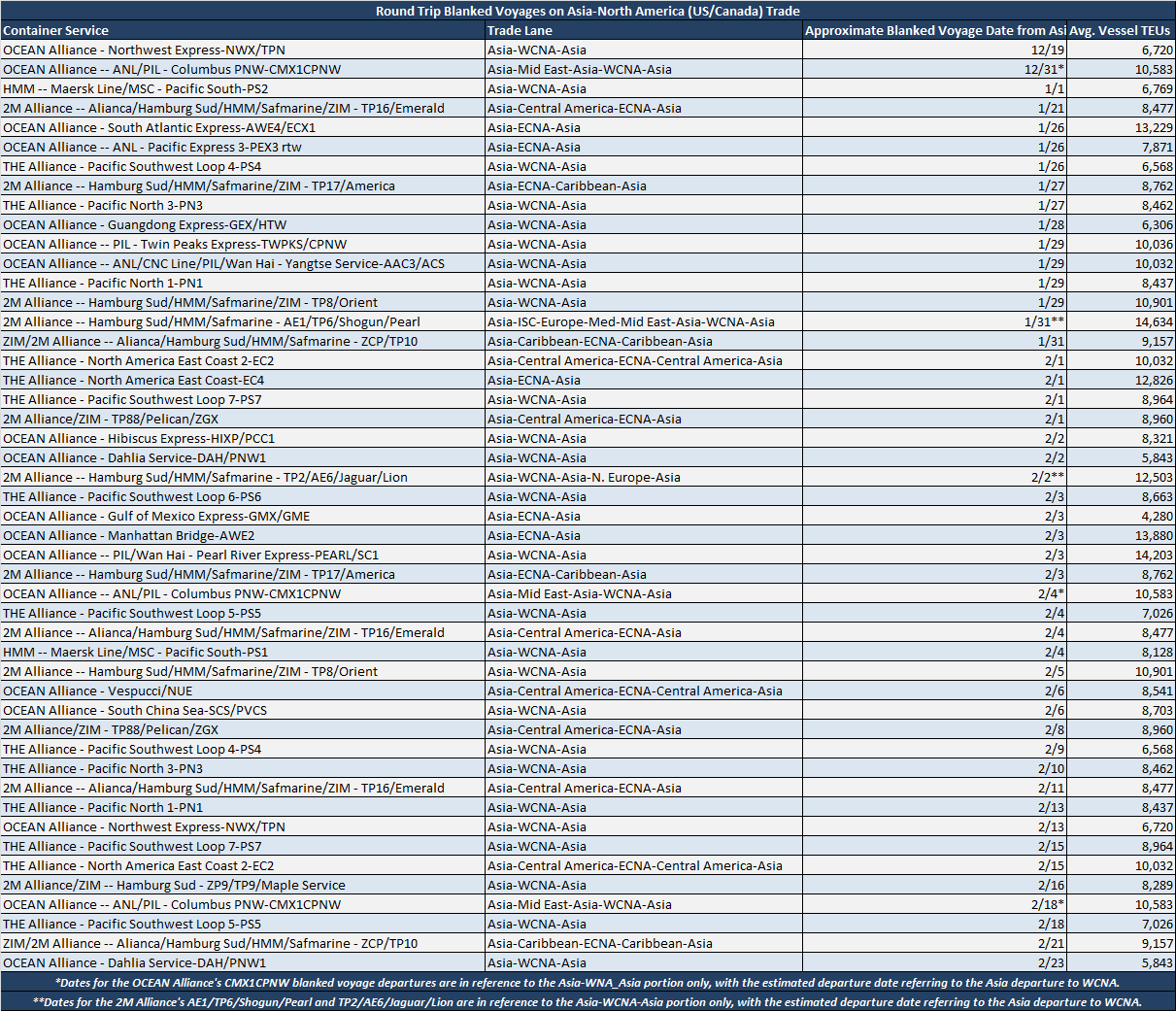 The IMO's 2020 sulfur cap, which kicked into gear at the start of 2020, also represents a huge threat to profitability, since all carriers will be required to use bunker fuel with a maximum sulfur content of 0.5%, rather than bunker fuel with a maximum sulfur content of 3.5%, and low sulfur fuel oil (LSFO) is much more expensive than high sulfur fuel oil.
Carriers are attempting to recover these higher costs through bunker adjustment factors, which they rolled out Dec. 1. Although spot container rates generally rose week-over-week at the end of November and early December as a result, and have continued to increase on the Asia to North Europe and Mediterranean trades, the increase has slightly fizzled out on the Asia to North America trades.
This can be seen in the chart below, which was built using data from the Shanghai Shipping Exchange's Shanghai Containerized Freight Index.

"We do not expect the companies to be able to fully pass all the associated costs on to customers due to their limited bargaining power in a market plagued by overcapacity," Fitch Ratings said in November, in reference to the shipping industry in general.
The IMO 2020's sulfur cap will likely hurt some carriers more than others, being that they're taking different approaches on how to comply, with some relying more on certain methods than others, although low sulfur fuel oil is expected to be the most common method of compliance initially over scrubbers and liquefied natural gas (LNG) as fuel. Additionally, they have different BAF formulas for recovering fuel costs, which could impact how successful they are in recouping costs.
Also, being that no two carrier service networks are the same, carriers will be impacted differently by LSFO and LNG costs.
"Asia is set to benefit from IMO 2020 more than most other regions due to its surplus of gasoil and the relatively high complexity of its refineries," S&P Global Platts said in September. More specifically, in November, S& P Global Platts said, "South Korean refiners are the best prepared in Asia for the low sulfur marine fuel market next year."
Interested in our data? Contact sales here for more information.