S.C. Ports Authority's inland presence paying off
Shippers tell BlueWater Reporting how they're benefitting from the port authority's two inland ports.
on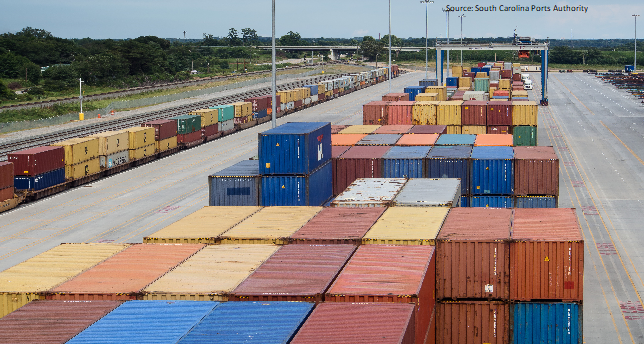 The South Carolina Ports Authority's two inland ports that have sprouted up in recent years have provided immense benefits to the Port of Charleston and shippers relying on the prominent shipping hub for imports and exports.
The port authority owns and operates Inland Port Greer, which opened in November 2013, and Inland Port Dillon, which opened in April 2018.
Inland Port Greer and Inland Port Dillon allow shippers to cut down on costs and improve supply chain efficiency while allowing the Port of Charleston to reduce congestion through the use of rail to and from these inland ports, thus cutting down on truck transits.
The importance of both inland ports will only increase once the Charleston Harbor Deepening Project is completed in 2021. The project's dredging will likely lead to more larger vessels calling the Port of Charleston, and therefore, more cargo being offloaded at once and a higher need for the inland ports to help stagger out the flow of cargo.
SCPA's inland ports. Inland Port Greer is situated 212 miles inland in upstate South Carolina along I-85. An overnight rail service provided by Norfolk Southern offers transits Monday-Saturday in both directions between Inland Port Greer and the Port of Charleston, according to SCPA. The inland port is open for receipt and delivery of containers 24/7.
Inland Port Dillon is located along the I-95 corridor near the North Carolina border. CSX provides overnight rail service from the Port of Charleston Monday through Saturday and from Dillon to the Port of Charleston Monday through Friday. The inland port is open for receipt and delivery of containers Monday through Friday from 6:00 a.m.-6:00 p.m.
"Container Maintenance Corp. invested $11.5 million into a new facility in Dillon County to serve Inland Port Dillon. The facility, which opened late last year and sits next to Inland Port Dillon, provides maintenance services and storage of containers and chassis," Liz Crumley, manager of corporate communications at SCPA told BlueWater Reporting in an August emailed statement. "Its operation has the capacity for reefer operations, as well as the ability to handle growth as Inland Port Dillon expands in its second year of operation."

The chart above, built using data from SCPA, illustrates how Inland Port Greer recorded 143,204 rail moves for fiscal year 2019, which ran from July 1, 2018-June 30, 2019. This was a 21.6% increase from the 2018 fiscal year. Inland Port Dillon recorded 29,580 rail moves in fiscal year 2019, which was its first full fiscal year in operation.
In July alone, Inland Port Greer handled 15,338 rail moves, up 57% from July 2018. Over at Inland Port Dillon, 2,889 rail moves were handled in July, up 122% from July 2018, when operations were still ramping up, according to SCPA.
"Our inland ports offer a more cost-effective way for companies to land product closer to their consumers, while also delivering a more consistent and dependable supply chain. Rail economics paired with overnight service is cheaper and more consistent, which is why companies are flocking to it," Crumley said.
"The inland ports contribute to SCPA's intermodal growth, which now represents 24% of the port's volume," she added. "Additionally, the influx of cargo from retailers and manufacturers using the inland ports boosts volumes at the port."

The chart above, built using data from SCPA, shows how SCPA's total container volumes and operating revenues have steadily increased over the years. The port authority's operating revenues for fiscal year 2019 still have yet to be released to the public.
Shipper benefits. BlueWater Reporting spoke with different shippers that rely on SCPA's inland ports, and they have expressed immense benefits from these hubs.
BMW Manufacturing Co. was the first customer at Inland Port Greer when it opened in late 2013, Steve Wilson, media communications specialist, corporate communications at BMW Manufacturing told BlueWater Reporting in an emailed statement.
Before Inland Port Greer was built, BMW Manufacturing had about 25,000 trucks per year transiting between the Port of Charleston and Inland Port Greer. That's two-way traffic going from Charleston to Greer and from Greer to Charleston, Wilson explained.
BMW Manufacturing uses Inland Port Greer for imports and exports. The company primarily imports engines and transmissions, while its exports consist of North America car parts and BMW painted bodies for the company's export operations in emerging markets such as Russia, Thailand and India.
"By taking 100 trucks off the road every day, the annual CO2 emissions reduction is about 13,000 tons," Wilson said.
Commenting further on the inland port, Wilson said, "The efficiency comes primarily from storing our sea containers. Prior to Inland Port Greer and before our major expansions, BMW stored sea containers onsite. Inland Port Greer gave us the opportunity to store our sea containers offsite and 'call them off' in a just-in-time manner. So with Inland Port Greer, currently, if we need a sea container onsite to prepare parts for assembly, our warehouse 'calls off' the container from the inland port and there is a 45-minute time window. Inland Port Greer pulls the sea container, puts it on a truck chassis, and drives it to BMW. This works very well with the 45-minute time window. We do this every day several times. Everything has been implemented very well with the port."
Wilson also noted how having Inland Port Greer nearby helps BMW Manufacturing be more efficient inside the plant. "We don't have to manage several hundred sea containers on our site; the port does this now," he said. "They deal with the complexity of getting them unstacked and trucked over to us. That's their business. That's what they do best. Also, we use our space onsite now for expansion, not for storing sea containers."
No finished BMWs are sent through Inland Port Greer, Wilson said, adding how completed vehicles ready for export are railed directly from the plant to Charleston.
Textiles manufacturer Himatsingka has also been benefitting from Inland Port Greer. Himatsingka previously relied on the Port of Charleston and other adjacent ports of entry for imports and was challenged with devising a more favorable, well-timed, and less costly logistics and distribution strategy for imports into the U.S., according to a SCPA whitepaper released in November 2018, titled, "Inland Ports: Relief from trucking challenges."
Himatsingka manufactures and distributes home textile products in Asia, Europe, North America, and South America. Its North American headquarters is in New York, and its main U.S. East Coast distribution center is in Spartanburg, S.C.
Himatsingka relies on short haul rail from the Port of Charleston to Inland Port Greer, which is a short distance from its Spartanburg distribution center.
"The value of using Inland Port Greer for our intermodal needs is a savings of approximately $150 per container," Shivakumar Basavanahally, director of supply chain operations for Himatsingka in Spartanburg said in the whitepaper.
"The close proximity of Inland Port Greer and Himatsingka's DC significantly reduces truck miles and related challenges of truck capacity. Additionally, since containers move quickly from Charleston to Inland Port Greer, the chance of detention and demurrage charges are reduced," SCPA said in the whitepaper. "Once the short haul rail solution via Inland Port Greer proved its value, Himatsingka selected the Port of Charleston as its only port of entry on the U.S. East Coast."
Over at Inland Port Dillon, Rick Myers, co-owner of C&M, told BlueWater Reporting in a phone interview how SCPA's newest inland port offers significant cost savings for farmers. C&M is an independent hog farm, local grain elevator and trucking company located in Latta, S.C., which is just a few miles from Dillon.
C&M buys soybeans from farmers as far as 100 miles away, Myers said. After sitting in storage, the soybeans are taken by truck to Inland Port Dillon where they are shipped by rail to the Port of Charleston for destinations across Asia, including Thailand, Vietnam and Indonesia. Before Inland Port Dillon opened, the soybeans went to local processors in South Carolina and North Carolina, and because of that, farmers were not getting as much money per bushel, Myers explained. "The biggest benefit is the local farmers are receiving 30-40 cents more per bushel," he said, adding how shippers are also dealing with less wait times at processers.
"We've had talks about using the inland port for other products," Myers said. "There's a big opportunity for us and local farmers."
Port of Charleston's massive expansion. In addition to the inland ports, various projects are underway that will continue to boost the Port of Charleston's potential.
By the end of 2020, the Wando Welch Terminal will be able to handle three, 14,000-TEU ships simultaneously. Additionally, the Charleston Harbor Deepening Project and phase 1 of the Hugh K. Leatherman, Sr. terminal will both be completed in 2021.
The Charleston Harbor Deepening Project involves dredging the main channel from a depth of 45 feet to a depth of 52 feet and dredging the entrance channel from a depth of 47 feet to a depth of 54 feet.
Dredging of the entrance channel began in February 2018.
Commenting on the dredging project's status, Crumley said in August, "Dredging of the entrance channel is well underway, preparing the project for the next phase of deepening from Charleston Harbor up to Wando Welch Terminal. The 52-foot depth and the width of the harbor channels will allow two 14,000-TEU-and-above ships to easily pass one another without tidal restrictions. Upon completion, Charleston Harbor will be the deepest harbor on the East Coast at 52 feet."
"Our deepening project answers the need for a Southeastern port to handle 14,000 to 18,000-TEU vessels drafting 50 feet or more without significant depth and other navigation restrictions," SCPA President and CEO Jim Newsome said in a March press release.
Meanwhile, the port's Leatherman terminal will be constructed in a total of three phases, with timing based on market demand, Phillip Padgett, chief financial officer at SCPA said in the fiscal year 2018 annual financial report. The first phase will consist of a ship berth, 130 acres of upland facilities, container storage and container handling equipment.
At full buildout, the terminal will consist of 286 acres and will boost the port's capacity by 50%, according to SCPA.
Stacking up. The chart below, built using data from BlueWater Reporting, illustrates how the Port of Charleston compares to other nearby container ports.

The port is currently called by 25 fully cellular container services that sail to other regions outside the United States, which collectively deploy 216 vessels averaging 7,735 TEUs, with the largest vessel being 14,100 TEUs. This puts the Port of Charleston well ahead of JaxPort and the Port of Wilmington, N.C., and roughly in line with the Port of Virginia.
However, the Port of Savannah's business surpasses the Port of Charleston in terms of number of container services and vessels, as well as the largest containership size calling the port at 14,414 TEUs.
Of these five ports, the Port of Savannah also tends to typically offer the fastest transits from Asia, as illustrated in the chart below, which was constructed using data from BlueWater Reporting's Region to Region Transit Analysis by Service tool.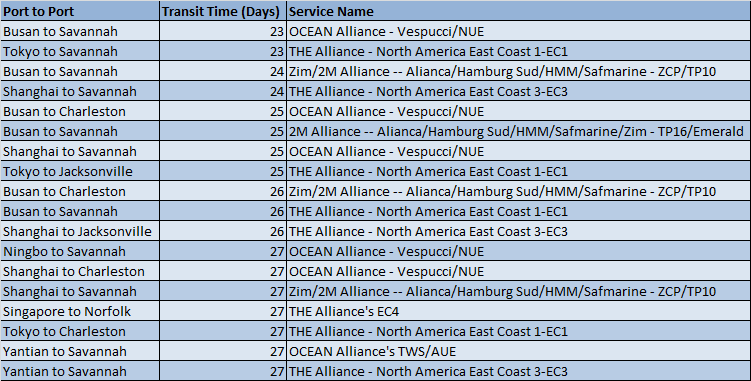 Of these ports, and the South Atlantic overall, the Port of Savannah takes the lead. Like SCPA, it has strong ties to inland ports. Cordele Inland Port, through Cordele Intermodal Services, offers a 200-mile rail route to the Port of Savannah's Garden City Terminal. Additionally, the Appalachian Regional Port, which is operated by the Georgia Ports Authority, opened in August 2018 in northwest Georgia, with a rail route connecting it to the Garden City Terminal.
However, in regards to the entire U.S. East Coast, the Port of New York & New Jersey has a strong lead, having handled 643,706 TEUs in May, followed by the Port of Savannah at 373,394 TEUs, the Port of Virginia at 260,894 TEUs, and SCPA at 204,457 TEUs.
Although ports up and down the U.S. East Coast have been undergoing upgrades in recent years, largely fueled by the completion of the Panama Canal Expansion in June 2016, the ongoing trade war between the U.S. and China could potentially take a toll on all U.S. ports in the near future. However, that doesn't mean the development of inland ports should come to a halt, being that they can still help ease the flow of cargo to and from seaports, give shippers more options, and increase efficiency while slashing costs for shippers.




======= >>>>>>> 65101948d3f97f6e650027a0ef51327bea4d11d0