Commentary: Port of Montreal, a key to the heartland
The Port of Montreal, located along the St. Lawrence River in the French-speaking province of Quebec, is one of the largest inland ports in North America.
Montreal is the second-largest city in Canada and is also the entry point of the St. Lawrence Seaway, a series of locks and canals along the river that connects the Atlantic Ocean with the Great Lakes.
Although the St. Lawrence Seaway freezes over during the winter months, the Port of Montreal is operational year-round.
The port is a major transshipment hub that connects the Great Lakes states and provinces to global trade networks. It is also strategically located on one of the fastest direct routes from Europe.
The port handles containerized and non-containerized general cargo, as well as dry and liquid bulk cargo.
Its strong intermodal presence is a result of its rail network that it says covers 12 kilometers and comprises over 100 kilometers of dockside track that links to Canadian National and Canadian Pacific yards, which serve Eastern and Western Canada, as well as Northern and Southern U.S.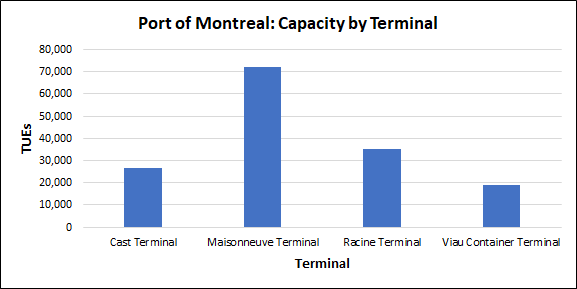 In terms of container shipping, which is a key role at the port, BlueWater Reporting's Terminal Analysis application shows how much container capacity is deployed though the port's terminals.
The busiest of the terminals for container cargo is the Maisonneuve Terminal, which is utilized by three container services that have a total combined deployed capacity of 72,060 TEUs. The Maisonneuve Terminal is operated by Termont Terminal, Inc., which also operates the Viau Container Terminal. Only one service with a total deployed capacity of 18,759 TEUs calls the Viau Container Terminal. The two terminals in between them, Racine Terminal (35,343 TEUs) and Cast Terminal (26,676 TEUs), are operated by Montreal Gateway Terminals Partnership. A new container terminal, dubbed the Contrecouer Terminal, is being planned on the south side of the St. Lawrence River, with construction expected to start in 2020.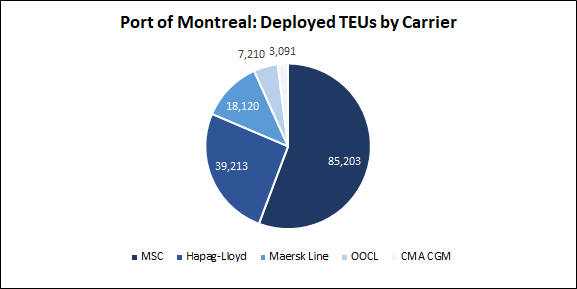 Also looking at BlueWater Reporting's Terminal Analysis application, the carrier deploying the most container capacity on services through Montreal is MSC. The carrier operates a total of 20 container vessels assigned to services that call Montreal, which have an aggregate capacity of 85,203 TEUs and comprise over 55% of deployed container capacity though the port. The next largest is Hapag-Lloyd with 39,213 TEUs, followed by Maersk Line with 18,120 TEUs, OOCL with 7,210 TEUs, and finally CMA CGM with 3,091 TEUs.

Looking at BlueWater Reporting's Port Dashboard app for Montreal, there are eight liner shipping services that call Montreal in our database. MSC supplies vessels on four services; Maersk, Hapag-Lloyd and OOCL both supply vessels for two services; and CMA CGM supplies a vessel on one service. Seven of the eight services are transatlantic services while one goes to the Caribbean and Gulf of Mexico.