Africa's growth potential remains in high gear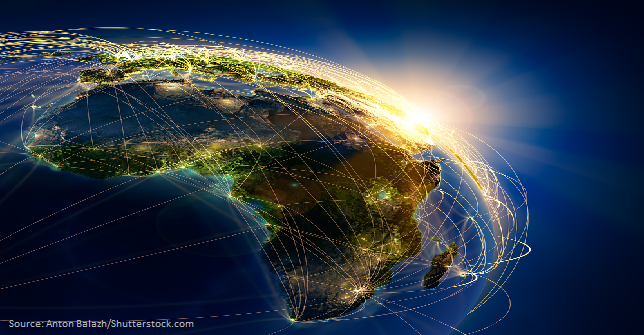 Africa is one of the fastest growing economic regions in the world, and its potential for growth continues to remain strong.
Most African countries signed the Africa Continental Free Trade Agreement, which plans to be the largest free trade bloc once it is fully ratified. However, this may be undermined by the recent decisions made by the continent's largest economy, Nigeria, which has closed all import and export of goods through its land borders in attempts to curb what it considers illegal informal trade across the border. For this free trade agreement to reach its full potential, it would require the cooperation of Nigeria.
Another development for Africa is strengthened ties with Russia. Last week, Russian President Vladimir Putin held a summit in Sochi, hosting many African leaders to make deals, both economically and militarily.
This power play, according to the New York Times, is a result of a waning Western influence on the continent, along with a desire of many African countries to lessen their reliance on China.
According to an article in Quartz, Russian trade with Africa has tripled to $18 billion annually in the past nine years, and Putin said during the summit that he would double that in the next five years. However, tripling that figure again would still put it vastly behind China, Africa's largest trading partner, at $204 billion annually, and the European Union.
It's not just the trade volume alone that puts China at the top, but the established infrastructure it has built around the continent, including ports, terminals and railroads. However, agreements have been made between Russia and 18 African countries to develop nuclear energy, which would come at a great cost, but would put them at a possible advantage in that sector. The summit also saw increased cooperation between Russia and Africa militarily, including increased sales of weapons, aircraft and Russian private mercenaries.
If these deals and plans come to fruition, there is no doubt that Africa will continue its trajectory as one of the fastest growing economic regions in the world.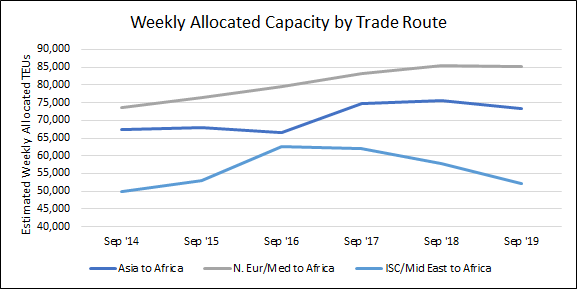 The chart above, built using BlueWater Reporting's Capacity Report, shows the weekly allocated capacity from the same week in September over the past six years for trade coming to Africa from Asia, North Europe/Mediterranean and the Indian Sub-continent/Middle East. It shows the steady growth in trade from Asia to Africa, North Europe/Mediterranean to Africa, while trade from the ISC/Middle East to Africa peaked in 2016, but has since fallen slightly closer to its original capacity. Between the September reporting periods in 2014 and 2019, weekly allocated capacity from Asia to Africa grew 8.8%, while weekly allocated capacity from North Europe/Mediterranean to Africa grew 15.7 % and weekly allocated capacity from the Indian Sub-continent/Middle East to Africa grew 4.4%. This trend confirms that Africa is one the fastest growing trade regions of the world.

The above table shows the amount of container services in BlueWater Reporting's database from the largest trade regions to Africa.
The most services offered to Africa are from North Europe and the Mediterranean with 40 services. There are 21 services from Asia to Africa and 21 services from the Indian Sub-continent/Middle East to Africa, however there is some overlap between these two because many services from Asia to Africa will stop at ports in the ISC or Middle East. There are only two container services from North America to Africa.
Interested in our data? Contact sales here for more information.