Maersk focuses on financial fundamentals as MSC poaches new CEO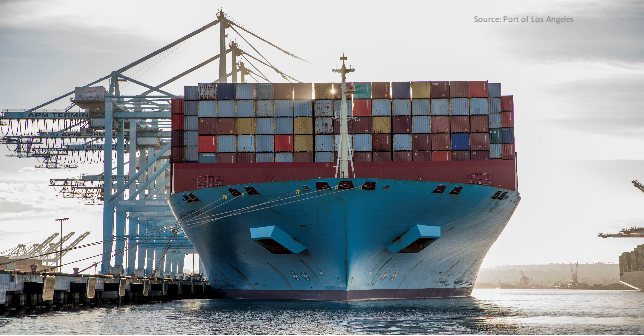 A.P. Moller - Maersk was able to improve profitability in Q3 2019, despite a weakening global economy and a drop in total revenue.
The Danish shipping conglomerate's interim report for Q3 was released on Nov. 15 and was highlighted by an increase in EBITDA (earnings before interest, taxes, depreciation and amortization) of 14% year-over-year to $1.7 billion. All financial comparisons in this commentary are in relation to Q3 of 2018 versus Q3 of 2019.
Overall EBITDA growth was largely fueled by the ocean segment of Maersk's portfolio, which saw a $142 million increase in EBITDA amid a reduction in gross capital expenditures (CAPEX) by $115 million.
The logistics and services segment's EBITDA rose by $24 million and the segment increased CAPEX by $13 million.
Meanwhile, the terminals and towage segment produced a $59 million increase in EBITDA with an $8 million increase in CAPEX.
Lastly, the manufacturing and others segment posted an increase in EBITDA of $30 million, with a decrease in CAPEX of $4 million.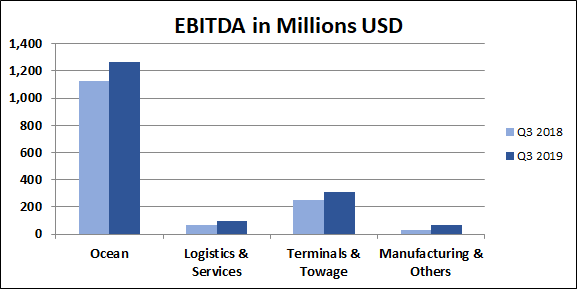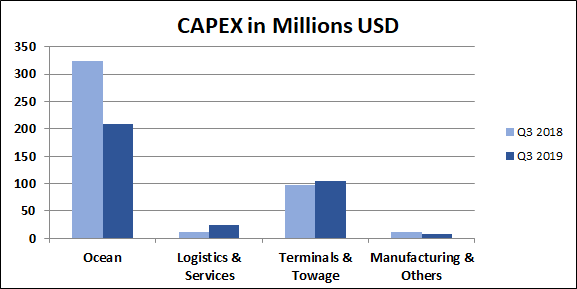 The two charts above display all four segments of Maersk's portfolio and illustrate their performance in Q3 of 2018 and 2019. Maersk was able to achieve EBITDA growth in all four sectors and reduce CAPEX in two out of the four sectors.
Further reduction in CAPEX will be a point of emphasis in the future and Maersk announced on the Q3 report that, "Accumulated gross CAPEX for 2020-2021 is expected to be USD 3.0-4.0bn, while expectations are maintained around USD 2.2bn in 2019, reflecting continued focus on CAPEX discipline and free cash flow generation."
Maersk has also been less aggressive in ordering more and larger vessels, unlike its 2M Alliance partner MSC, which is still in the process of rolling out its MSC Gülsün-class containerships, the largest in the world at 23,756-TEUs.
We can evaluate this discipline in CAPEX by measuring Maersk's orderbook for new container vessels. The chart below shows the operating fleet capacity and orderbook capacity of Maersk (including subsidiary lines) versus MSC, according to BlueWater Reporting's Carrier Ranking Report, which uses data from Clarksons Research.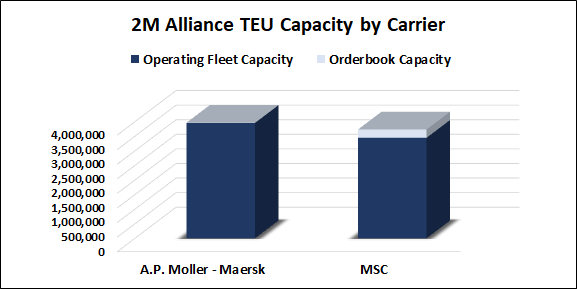 As illustrated by the chart above, Maersk currently has an orderbook capacity of 7,362 TEUs. In contrast, MSC is taking a more CAPEX intensive approach and is investing in new vessels amounting to 283,281 TEUs of capacity.
Orderbook capacity figures include all vessels on order, and exclude newbuilding options and unconfirmed orders. It does not include vessels that are rumored to be operated by a specific carrier upon delivery, but owned by separate, unrelated shipping companies.
MSC is also competing with Maersk for management talent and has poached Maersk's COO Søren Toft to serve as its new CEO. Toft has worked at Maersk for the past 25 years. MSC said Monday that Toft's "start date will be communicated in due course."
Maersk CEO Søren Skou has also assumed the role of interim COO, Maersk said Monday.
Maersk posted impressive results for Q3, and with its CAPEX discipline, the conglomerate looks to be in a solid financial position in the future. However, it appears MSC is looking to out-compete its 2M Alliance rival in the future with additional vessels, boosting market share and a top executive bolstering its management team.
Interested in our data? Contact sales here for more information.