Port of Rotterdam staying ahead of the curve
The Port of Rotterdam offers the shipping and logistics industry an array of opportunities as it continues to push forward with upgrades to handle increasingly larger containerships and remain technologically advanced.
The port has a lot going for itself as it is, between being Europe's largest seaport and handling the biggest boxships on the seas, which currently clock in at 23,756 TEUs.
Additionally, the port has two of the world's most modern container terminals, which include APM Terminals' Maasvlakte II terminal and the Rotterdam World Gateway terminal. "The terminals are fully electric, from the automated guided vehicles (AGVs) to the quay cranes," according to the port.
All three major container shipping alliances - the 2M Alliance, the OCEAN Alliance and THE Alliance - also have very strong ties with the port. This is extremely beneficial for the port since these alliances dominate market share on key east-west trade lanes. BlueWater Reporting data shows that in addition to dozens of intra-North Europe liner services, the port is called by 54 liner services that sail beyond North Europe, 50 of which are container services. Of these 50 container services that sail beyond North Europe, 24 are operated by one of the three alliances, as illustrated in the chart below.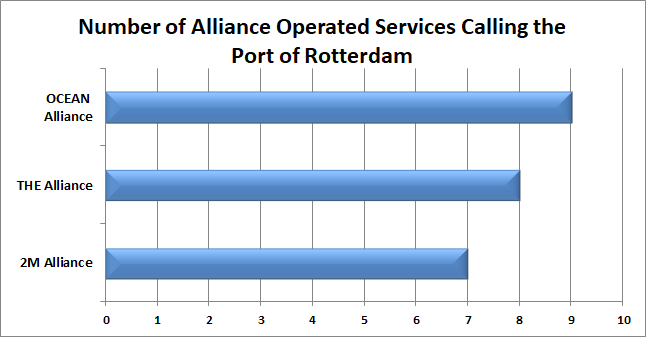 In terms of recent advancements, just this month, the port launched "Boxinsider," which allows shippers and freight forwarders to see where there containers are located at any given moment. "Boxinsider gives us - quickly and with minimal effort - a clear picture of the containers that we can expect at the various Rotterdam terminals," Remco Verwaal, account manager at ABC Logistics, one of the launching customers, said of the app.
Also this month, the port announced the completion of the deepening of the Botlek area of the port and the Nieuwe Waterweg channel, which leads up to the Botlek area, providing an additional 1.5 meters of depth across a distance of 25 kilometers. The largest sea-going vessels with a depth of 15 meters can now easily access the port's Botlek area, the port said.
With all these advancements, it's no surprise cargo handling at the port continues to remain steady. For the first nine months of 2019, the port said it handled 353.5 million metric tons of cargo, up 1% from the corresponding 2018 period. Broken down by segment, this consisted of 55.9 million metric tons of dry bulk, 159.5 million metric tons of liquid bulk, 114.8 million metric tons of containers, and 23.3 million metric tons of break-bulk. In terms of container volumes, the port handled 11.2 million TEUs for the first nine months of 2019, up 3.8% from the same 2018 period.
Interested in our data? Contact sales here.